Happy New Year to all our Members

One of our newest members Tomo Kato, visiting from Japan, has just had her first child, a little boy Haruta, born on December 19. Haruta is the first baby born to one of our members for many years. Tomo has promised to introduce him to us in the new year. We are looking forward to it!
The Ladies' Club is now in its ninety-sixth year.
We are a friendly group of about a 100 members, with a varied programme of talks, social events and visits to places of interest. Above is a picture taken on one of our many outings .
GENERAL INFORMATION
The Ladies' Club usually meets either at:
Devonshire Hall, Cumberland Road, Leeds LS6 2EQ
or at University House on the university campus.
See the two images upper right.
Coffee or tea, with biscuits or cakes, will normally be served before talks.
It is important that you inform the named person on your personal programme by the due date, if you wish to attend, as we have to advise the venues of numbers in advance.
THE ANNUAL SUBSCRIPTION FOR 2019-20 is £10.00
Details are available to members in their printed programmes. Please make your cheques payable to: University of Leeds Ladies' Club and send to the membership secretary, at ullcsecretary@gmail.com
or if you prefer, you may now pay for this and for other events directly to ULLC by Bank Transfer (BACS)
Please ensure that your name is given in the transfer details, as we will be unable to identify you without this information.
Information regarding eligibility for membership can be accessed under the menu tab:
About Us.
Book Club News
Siân, a very "nice and good" member of the first University of Leeds Ladies' Book Club, shown here celebrating a significant birthday, with a cake made in the image of the May book choice:
The Nice and the Good by Iris Murdoch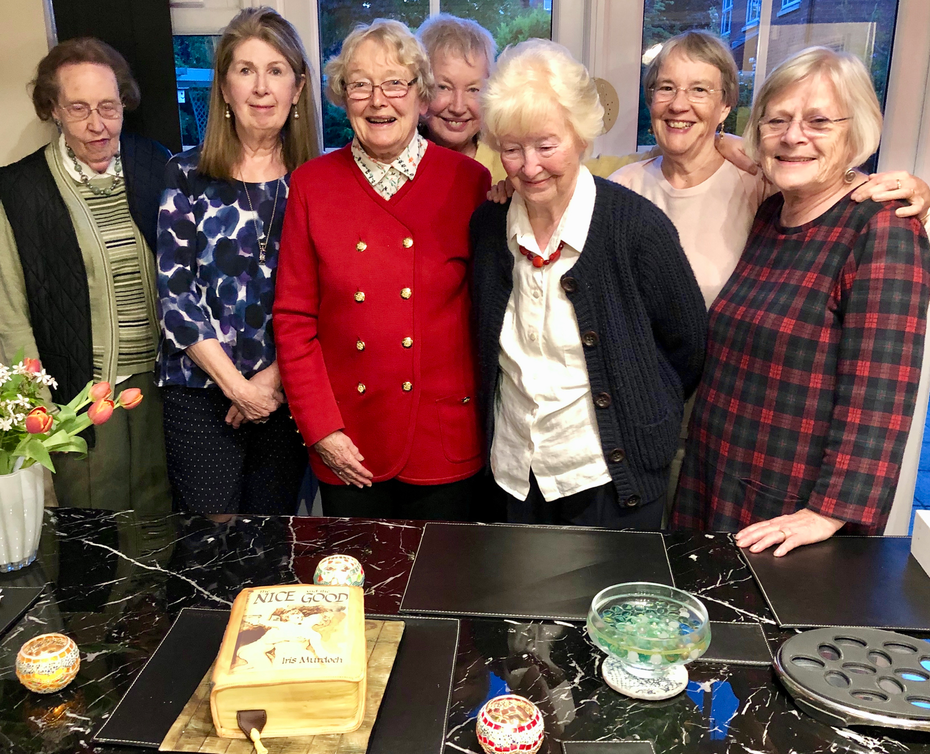 R.I.P.
Honorary Member, Mary Forster, died on 10 December.
A member for over 50 years, secretary in 1980/81 and President in 1986/7.
Her funeral will take place at Adel Church on Tuesday 7 January at 1;00 pm.
Addresses and phone numbers of contacts can be found on the written programme made available to members each term.
Website: www.universityofleedsladiesclub.co.uk